Shorelark By The Sea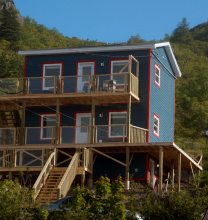 47 Long Run Rd. & 52 South Side Rd.
Petty Harbour
,
NL
A0A 3H0
(709) 743-6118
(709) 765-8428
Overview
ShoreLark by the Sea offers THREE unique, well appointed self-catered accommodations tucked away in two prime locations in the utterly charming fishing village of Petty Harbour, Newfoundland & Labrador.
Outfitted with all modern conveniences…from cable to cookware ….linens to lobster boil pots… ShoreLark guests at all three locations will have a private deck where you can unwind and be mesmerized by the massive hills, crisp sea air and of course, the awesome ocean views.
Whether you need a short getaway … or somewhere fabulous to live while you are working in town… all ShoreLark guests will enjoy the cachet of care free living in a 500 year old fishing village... and be only 15 minutes from the action of downtown St. John's, the oldest city in North America!
ShoreLark by the Sea is perfect for tourists, visiting executives (looking for short term accommodations) ....or artist's (looking for a different perspective!) who need proximity to St. John's and area – but want the unique experience of living by the sea! Excutive Rental rates (Nov - April) are all-inclusive, with limits.
Our guests can have their adventure by day ...and ShoreLark by night - picking up fresh lobster and fish from the local Newfoundland specialty grocery store, Bidgoods - and boil up a fine feed for themselves in the comfort of their home by the sea!
Pop down to Chafe's Landing for a fresh seafood meal or put a little zip in your doo dah and check out North Atlantic Zip Lining for a wicked ride! So many things to do in and around Petty Harbour with ShoreLark by the Sea! See our website for all details and policies.
For all our outstanding reviews...Please go to : http://www.vrbo.com/428135 Check out our FaceBook page and "Like Us"!!
Amenities
Bed Size - Q (Queen)

Birds & Wildlife

Cable or Satellite

Cellular Access

Clock/Alarm

Clothes Storage

Coffee Maker

Computer Access (Available)

Ensuite Bath (3 Piece)

Microwave

Open Off Season

Outdoor Parking

Private Bath (3 Piece)

Telephone (In-Room)

TV (On-Site)

Washer/Dryer (On-Premises)

WiFi
Room Rates
$160 a night / $1100 a week + $60 cleaning fee + applicable tax
Cozy....clean....everything you need!
Like Nan's around the bay......if Nan was an interior decorator!
Each Nest has:
    500 (very well thought out!) square feet
    Private deck overlooking harbour, fishing boats and ocean
     All modern furnishings
    One bedroom with Queen sized bed
    with luxurious memory foam mattress
    Lovely linens
    Fully equipped Martha Stewart kitchen
    Dinnerware and cookware
    Dishwasher
    Microwave
    Soaker tub and shower
    Full-size washer and dryer
    Free cable, internet, and phone
    Electric fireplace
    BBQ & patio set
    Parking for one vehicle
$160 a night/ $1100 a week + $60 cleaning fee + applicable tax
Exactly the same as the Upper....only a sunny yellow!
$199 a night + $80 cleaning fee + applicable tax
Our Guest House has:
    1400 square feet (yes, that's fourteen hundred !)
    Large private veranda overlooking the entire
    harbour and ocean
    All modern furnishings
    One bedroom with Queen sized bed and luxurious
    memory foam mattress
    Child's cot available with advance notice
    Lovely linens
    Fully equipped kitchen
    Dinnerware and cookware
    Dishwasher
    Microwave
    Soaker tub and shower
    Full size washer and dryer
    Office with desk and cabinet
    Cable, internet and phone are included
    Electric fireplace
    BBQ
    Parking for one vehicle