Jubilee House Bed & Breakfast
Jubilee House Bed & Breakfast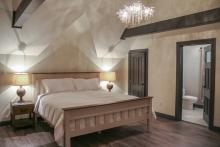 Jubilee House Bed & Breakfast
(888) 963-8282
(709) 468-1800
Overview
Beautifully Restored 1887 Registered Heritage Home
A Second Empire style bed and breakfast located in the heart of historic Bonavista, Jubilee House is a jewel-like example of a successful restoration. It was built in 1887 - the year of Queen Victoria's Golden Jubilee. Designed by prominent and prolific architect Ronald Strathie, it was the home of local businessman and tinsmith, J.W. Lawrence. Now, a brass plaque by the door once again proclaims "Jubilee House 1887", and the original doorbell greets guests lucky enough to encounter the lovely home.
Breakfast is included with your stay. We are pleased to offer a breakfast menu developed by Chef Katie Hayes of the Bonavista Social Club. Chef Hayes not only loves cooking with fresh Newfoundland ingredients but has developed a breakfast menu inspired by the same. Breakfast will feature Bonavista Social Club homemade bread baked daily from the only commercial wood-fired bread oven in Newfoundland and Labrador as well as fresh free-range eggs and Nanny Hayley's Jams & Jellies. These jams and jellies contain no preservatives and are made from recipes dating back to the mid 1800's. All of Nanny Hayley's jams are made from wild berries, handpicked near the coastline from Bonavista to Port Rexton. Breakfast is included with your stay.
Jubilee House Bed and Breakfast is designed with you in mind. We've tailored each room, our hospitality and amenities to make your stay as enjoyable and relaxing as possible. We hope that our attention to detail shines through each and every moment of your stay.
Located in the heart of historic Bonavista. Walking distance for historic sites, The Garrick Theatre, restuarants and coffee shop. Come and experience the warm hospitality that makes Jubilee House so unique.
WINNER OF 2007 SOUTHCOTT AWARD FOR BUILDING RESTORATION / PRESERVATION
Jubiilee House is owned and operated by Bonavista Living - Preserving Yesterday, Living Today
Amenities
Access - Partial

Bed Size - D (Double)

Bed Size - K (King)

Bed Size - Q (Queen)

Birds & Wildlife

Cable or Satellite

Ceiling Fan or Oscillating Fan

Cellular Access

Clock/Alarm

Clothes Storage

Coffee Maker

Continental Breakfast

Cyclists Welcome

Deluxe Continental Breakfast

Dining Room

Ensuite Bath (3 Piece)

Ensuite Bath (4 Piece)

Full Breakfast

High Speed in-room Internet Access

In-room Jacuzzi

Laundry Service Available

Microwave

Mini Fridge (In-Room)

Motorcycles Welcome

No Pets Please

Non-Smoking Property

Outdoor Parking

Private Bath (3 Piece)

Private Bath (4 Piece)

Restaurant (Nearby)

Telephone (On-site)

TV (In Room)

Washer/Dryer (On-Premises)

WiFi