Rayski Guest House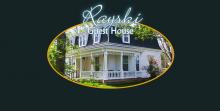 (902) 300-3123
(855) 900-3123
Overview
​​Rayski Guest House
Those of discerning taste will appreciate the many fine details of this choice accommodation.
Enjoy your morning coffee in the sun or the shade of the front veranda or back deck.
Patio doors offer access tothe private back yard with mature trees opening to a view of the Grand Pre dykelands and beautiful Cape Blomidon.
Amenities
Bed Size - D (Double)

Bed Size - Q (Queen)

Bed Size - S (Single)

Ensuite Bath (4 Piece)

Telephone (On-site)

WiFi