SeaWind Landing Country Inn
SeaWind Landing Country Inn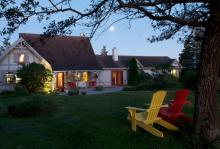 Ann Marie & David de Jongh
SeaWind Landing Country Inn
159 Wharf Road, Charlos Cove
R.R. 2
(902) 525-2108
(800) 563-4667
Overview
Located on 25 spectacular oceanfront acres, Seawind Landing Country Inn is your destination of choice for a perfect sea-side getaway. The inn is located on the Eastern Shore in the historic Acadian village of Charlos Cove, about half way between Halifax and the Cabot Trail along the Marine Drive, one of the province's most scenic coastal routes.  The property is bordered on three sides by water and beachcombers will find plenty to see and do along the 1.6 km of shoreline surrounding the inn.  For the adventurous, there is even a small island directly in front of the property which is accessible at low tide.
Whether your idea of a perfect day involves sitting on a deck overlooking the waters of Tor Bay, exploring local museums and shops, or sampling some of the best and always freshest fare offered up by the Atlantic, Seawind Landing has something for you.  Our sea-side dining room serves breakfast and dinner daily, with licensed dining open to the public. Our menu features unique offerings like Blueberry Stuffed French Toast Brulée for breakfast, or try any of a number of locally sourced seafood delights. Everything we serve, from our ancient grains granola to our dinner bread and desserts, is freshly made in-house and our dining room has become a favourite with foodies far and near. And of course, we are happy to cater to any of your dietary needs.  
Seawind Landing's 13 guest rooms are each equipped with private 4-piece bathrooms; some have second-floor balconies with panoramic ocean views. The rooms all have large flat screen televisions and free WiFi, with ironing boards and irons available upon request at no extra charge.
Guest rooms are divided between two buildings; the Main Inn and Land's End. A common area in the main building offers guests a large comfortable sitting area for lounging, curling up with a good book or visiting with friends old and new.  We also have a small gift shop featuring locally made beach glass jewelry, arts, and crafts.  A large deck off the main inn overlooks the ocean and is the perfect place to relax before dinner or all afternoon just gazing out to sea. 
Seawind Landing and the surrounding area is a great destination for history buffs, nature enthusiasts and culinary devotees alike. A vast physical and cultural history is well documented and lovingly curated at the many museums, historical sites and interpretive trails you'll find nearby, like Grassy Islands National Historic Site in Canso, the Acadian resource center in Larry's River, and Historic Sherbrooke Village to name a few. Nature enthusiasts will enjoy the Chapel Gully Trail in Canso and find time spent on the beach at Tor Bay Park of the Atlantic some of the most relaxing found anywhere in the province. The nearby village of Guysborough offers a variety of dining and shopping options, with the Authentic Seacoast group of companies making rum, craft beer, and fresh roasted coffee all in this charming seaside shire town. On our website you'll find some detailed itineraries to help you plan your time in the area.
If you are travelling with a pet, we have several rooms that we have designated pet-friendly. They are welcome at no extra charge. 
There is an old saying that goes "If you are lucky enough to live by the sea, you are lucky enough."  We couldn't agree more.  Come stay with us for a while at Seawind Landing and see for yourself. 
Amenities
Beach Nearby

Bed Size - D (Double)

Bed Size - Q (Queen)

Birds & Wildlife

Cable or Satellite

Cyclists Welcome

Ensuite Bath (4 Piece)

Full Breakfast

Motorcycles Welcome

Non-Smoking Property

Open Year Round

Pets Are Welcome

Pets on Premises

Restaurant (On-Site)

Telephone (On-site)

TV (In Room)

WiFi