Obanbrae Farm Bed & Breakfast
Obanbrae Farm Bed & Breakfast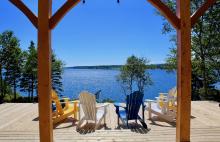 Obanbrae Farm Bed & Breakfast
Overview
Come and enjoy your Prince Edward Island vacation with us. We are in a great central location (five minutes from Charlottetown, and one and a half to two hours away each end of the Island), so you can tour the Island each day and return, or you can be 5-30 minutes away from red sand beaches, white sand dune beaches, theatre, fine dining, shopping, golfing, harness racing, racino, deep-sea fishing, ceilidhs, lobster suppers, and historic sites. If you wish, we can assist you with your holiday plans. We have maps and tourist information available free for you.
We offer you 3.5 star accommodation.
We have non-smoking in our home. Smoking is permitted outside. Beach chairs, beach towels, and coolers/ice are available for your use, if you are returning to our B&B. National park pass may also be available for your use.