Fundy Heights B & B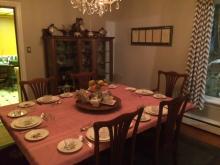 Overview
You'll find the Fundy Heights B&B in an idyllic setting along the beautiful Bay of Fundy. Your quiet, lush and friendly surroundings are just 5 minutes from the historic City Centre of Saint John, and very well located near the Digby Ferry.
Four distinctive guest suites await you, each with their own beautiful style and unique characteristics. Relax in the New Brunswick Room or stroll the secluded gardens. Enjoy a wonderful and complimentary home-style breakfast in Carman's Club dining room. Take in all that New Brunswick has to offer as you explore nearby parks and points of interest. Book your getaway today.
- Quiet, suburban setting 5 minutes from City Centre and very close to the Digby Ferry
- Congenial attentive host will help create unique memories of your stay
- Healthy, hearty, New Brnswick style breakfast starts your day
- Phone, TV in each room with computer access available to guests, wireless internet available
- Relax in an atmosphere combining the comforts of home with surroundings unique in character, furnished in period antiques
- Contact us for special event booking
Room Rates
- Room pricing per night from $105 to $125 (Canadian dollars). Special rates for hospital related stays. 
Save on your room reservaion by contacting us directly and using promo code FHBB2015
- $20 per extra person per night when using existing beds
Check In/Check Out:  Check-in time afte 4:00 p.m. Check-out time by 11:00 a.m.
Cancellation: 48 hours notice