Bayside Inn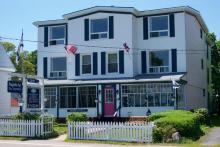 Angela Turner and Bobby Morgan
115 Montague Row
P.O. Box 459
(902) 245-2247
(888) 754-0555
Overview
The Bayside Inn proudly stands on Digby's waterfront in the Fundy Shore and Annapolis Valley region of Nova Scotia. Enjoy a relaxing stroll through our quaint town, explore local craft shops, museums and the Fisherman's Wharf, and enjoy a delicious seafood meal at one of our many fine restaurants. 
Our historic inn has had many improvements over the years, yet still maintains its original character and uniqueness. The Bayside Inn offers a spectacular view of the Annapolis Basin, the world-famous Digby scallop fleet and the amazing Fundy tides.  
Other nearby attractions and activities include whale watching, historic sites, lighthouses, eco and walking tours, Upper Clements Theme Park, an 18-hole championship golf course, kayaking and local winery tours, to name just a few. At the end of your day, enjoy watching the moon rise over the Basin from our cozy porch. In the morning, wake up to the amazing colours of a spectacular sunrise.
Our accommodations include 10 spacious rooms with a king or queen bed, cable television and free Wi-Fi. Guest amenities include a living room and a cozy sun porch overlooking the bay. A complimentary home-style full breakfast is provided in the guests' dining room, which is furnished with antiques.
Our lodging is approved by AAA/CAA and Canada Select. VISA, MasterCard, direct debit, and cash are accepted. 
Cancellation Policy: 24 hours prior to the day of arrival.
Amenities
Bed Size - D (Double)

Bed Size - K (King)

Bed Size - Q (Queen)

Cable or Satellite

Ceiling Fan or Oscillating Fan

Clock/Alarm

Cyclists Welcome

Dining Room

Ensuite Bath (4 Piece)

Environmentally Friendly

Full Breakfast

High Speed in-room Internet Access

Microwave

Mini Fridge (Available)

Motorcycles Welcome

No Pets Please

Non-Smoking Property

Open Year Round

Outdoor Parking

Private Bath (4 Piece)

Restaurant (Nearby)

Shared Bath (4 Piece)

Spa/Health Services

TV (In Room)

WiFi