Trout Point Lodge, Small Luxury Hotels of the World
Trout Point Lodge, Small Luxury Hotels of the World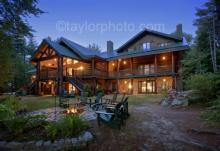 Trout Point Lodge, Small Luxury Hotels of the World
189 Trout Point Rd.
(off East Branch Road)
East Kemptville
,
NS
B5A 5X9
(902) 761-2142
(877) 812-0112
Overview
Trout Point Lodge is a quintessential luxury wilderness lodge nestled in the Tobeatic Wilderness Area in the heart of UNESCO Southwest Nova Biosphere. Trout Point Lodge is Canada's only member of Small Luxury Hotels of the World and also the world's first certified Starlight Hotel by the UNESCO partner Starlight Foundation. Their staff astronomer conducts nightly stargazing excursions and astrophotography workshops as well as solar gazing in the day. 
 
They offer other unique outdoor experiences like Forest Bathing, which has been recommended by Martha Stewart Living, as well as guided hiking, foraging, mountain biking, kayaking and canoeing. Whale watching, sea kayaking, scenic beaches, historic towns, and engaging museums are also available nearby.
Trout Point's kitchen was the first restaurant in Canada to receive international recognition for its sustainability, with the award of a Three Star rating from the UK-based Sustainable Restaurant Association (SRA) in 2013 (Michelin equivalent for sustainability). A luxurious breakfast is served from 8 a.m. until 10 a.m. Lunch options include gourmet picnics and packed lunches, or you can order from their delicious lunch menu. The signature daily-changing gourmet tablet d'hôte dinners are 4 courses but can also provide 3 or 5 courses upon request. They have an excellent wine program and have received Wine Spectator's Award for Excellence since 2009. Culinary classes with their Executive Chef or Sous Chef are also available for the culinary enthusiasts.
Positioned so that every room and cottage boast water views, Trout Point allows you to forget the cares of the outside world and truly unwind. The accommodations include eleven suites and one 2-bedroom lakeside cottage, all with ensuite 4-piece baths; some with fireplace, woodstove, separate bath and shower, balcony or deck. The enchanting location and spacious accommodations make for a most relaxing and restorative Nova Scotia vacation.
Visa, American Express, and MasterCard are accepted.
Cancellation policy: Penalties vary from 10% to 100% of the value of the reservation, depending on the date of cancellation. Cancellations made within 7 days of arrival will result in a 100% penalty.
Amenities
Air Conditioning

Bed Size - D (Double)

Bed Size - K (King)

Bed Size - Q (Queen)

Birds & Wildlife

Ceiling Fan or Oscillating Fan

Clock/Alarm

Concierge Service

Dining Room

Ensuite Bath (4 Piece)

Environmentally Friendly

Fitness Facilities

Full Breakfast

Gift Shop

Hot Tub

Lake Access

Laundry Service Available

Luggage Assistance

Meeting Rooms

Non-Smoking Property

Outdoor Parking

Pets Are Welcome

Private Bath (4 Piece)

Restaurant (On-Site)

Sauna

Telephone (In-Room)

Valet Parking
Room Rates
The top floor Treehouse Junior Suites both face the Tusket River and Tobeatic Wilderness and have half-cathedral ceilings with lots of windows above the log walls, including windows in the bathrooms. There is 100% natural colour wool carpeting (with eco-friendly all-natural padding), a beautiful pre-war natural dye Afghani carpet, a Jotul wood stove, original V. Cottreau furniture including queen bed and a desk, as well as a comfortable love seat. The bathrooms have high-fired Italian tile, artwork, pedestal sink, and 5', extra deep bath tubs.
The romantic Fireplace Junior Suites have wood-burning fireplaces, either 100% natural colour wool carpet (with eco-friendly all-natural padding) or hardwood floors, beautiful pre-war natural dye Afghani carpet, original V. Cottreau furniture including queen bed and a desk, comfortable chairs. The bathrooms have natural stone vanities, art work, and are finished with either high-fired Italian tile or natural slate, and come with 6' deep bath tubs. There is also a French door leading to the 2nd floor river-side porch, with a covered outdoor sitting area facing the river. Fireplace Junior Suites may be either in the main lodge or at Beaver Hall.